Catalog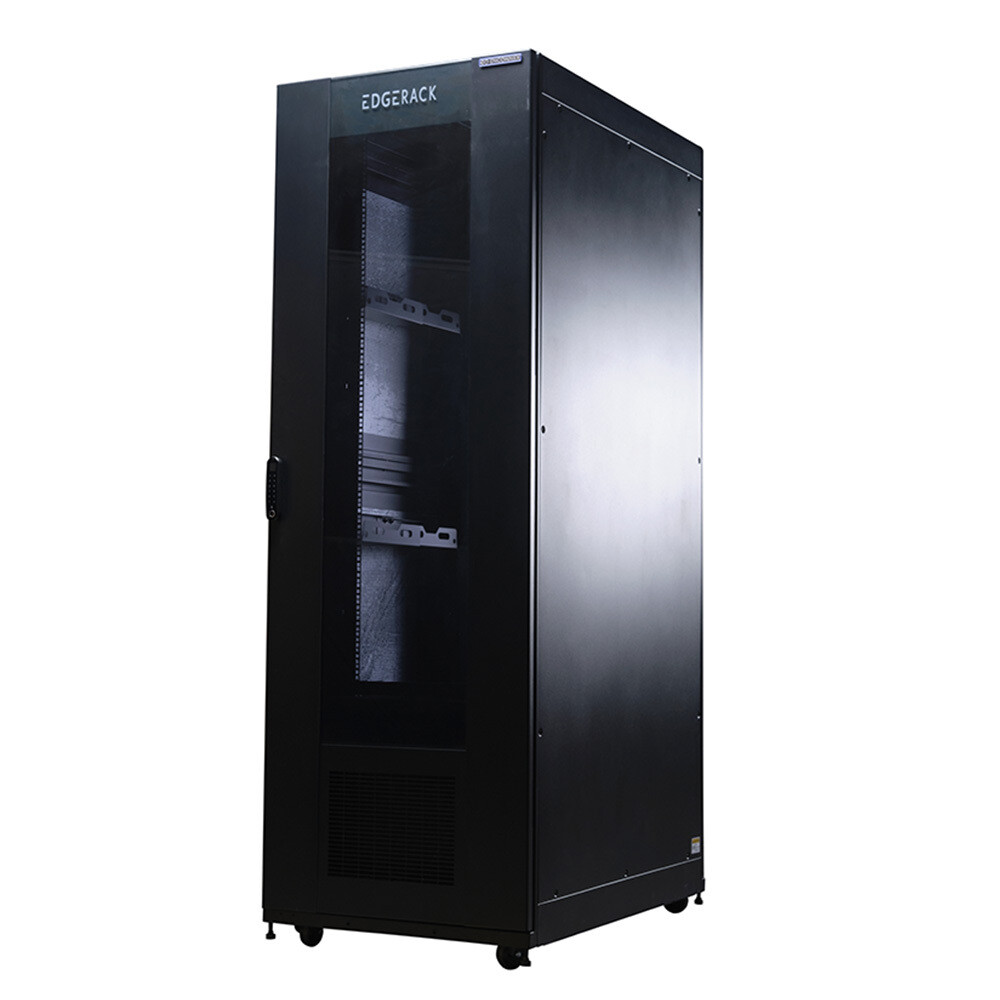 EdgeRack 5M
ER5-XXXXX-XXXX
Self-contained micro data center with integrated cooling (5kW), monitoring, management, and more. Built for edge environments.
Product Details
Specifications and Compliance:
See "Documents" tab
The EdgeRack 5M is an enclosed micro data center solution that includes a self-contained cooling unit with 5kW of cooling capacity, a built-in condensate processing device, cable management, environmental monitoring, remote management, enhanced security, and more. It is ideally suited for edge deployments in environmentally controlled areas. The EdgeRack 5M enables powerful edge computing for remote locations and branch offices.
Get more information on the EdgeRack 5M's landing page.
Applications:
Edge Locations
Small to Medium-Sized Enterprises
Medical Facilities
Remote or Branch Offices
Retail Stores
Educational Institutions
EdgeRack 5M Features and Benefits
Enabling Fast Deployment: The EdgeRack 5M built-in with a self-contained cooling unit and condensate water processing unit, eliminating the need to connect coolant copper or water drainage pipes, integrated access control and environmental monitoring, prefabricated and pre tested in factory, enabling fast deployment.
Integrated, Highly Efficient Cooling: Featuring a self-contained, bottom-mounted cooling unit with up to 5kW of cooling capacity. An inverter compressor and electronically commutated (EC) fans allow cooling to adjust to the IT load, minimizing the energy consumption.
Enhanced Security: The front door's electromagnetic lock ensures optimal security, access control, and thermal protection. When power is lost or temperatures go above your preset threshold, the front door will automatically open (the magnet disengages) to protect your equipment.
Cable Management and PDU Brackets: The 5M comes with short finger vertical cable managers (distributed in 1U increments) and dual PDU mounting brackets. A front-to-rear cable trough is optional for the 800 mm wide version. Our pro vertical cable manager option also includes a lashing panel and hinged cover.
Environmental Monitoring: Temperature, humidity, smoke, and leak detection sensors are included to help you monitor your enclosed environment.
Easy Maintenance: The rollers beneath the cooling unit allow it to be easily rolled out for maintenance. The air filter is washable and reusable and can be accessed by simply opening the front door.
Shared Cooling: Remove the side panels (security-head bit included) and deploy units side-by-side to mimic the effect of an in-row cooling unit and ensure cooling redundancy should a unit go offline.
Technical Drawing – 23.6″ (600 mm) Wide Cabinet
Technical Drawing – 31.5″ (800 mm) Wide Cabinet
[endtab]
Not seeing a configuration you need? Just reach out. We can find your solution.
Save this product for later